Polystyrene (PS)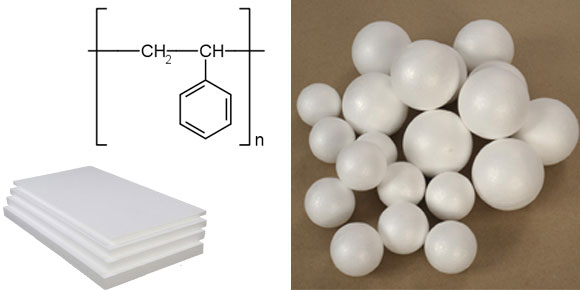 See Our Special Offers For Polystyrene ( PS )
Polystyrene (PS) /ˌpɒliˈstaɪriːn/ is a synthetic aromatic polymer made from the monomer styrene, a liquid petrochemical. Polystyrene can be rigid or foamed. General purpose polystyrene is clear, hard and brittle. It is a very inexpensive resin per unit weight. It is a rather poor barrier to oxygen and water vapor and has a relatively low melting point.[4] Polystyrene is one of the most widely used plastics, the scale of its production being several billion kilograms per year. Polystyrene can be naturally transparent, but can be colored with colorants. Uses include protective packaging (such as packing peanuts and CD and DVD cases), containers (such as "clamshells"), lids, bottles, trays, tumblers, and disposable cutlery.
As a thermoplastic polymer, polystyrene is in a solid (glassy) state at room temperature but flows if heated above about 100 °C, its glass transition temperature. It becomes rigid again when cooled. This temperature behavior is exploited for extrusion, and also for molding and vacuum forming, since it can be cast into molds with fine detail.
It is very slow to biodegrade and therefore a focus of controversy, since it is often abundant as a form of litter in the outdoor environment, particularly along shores and waterways especially in its foam form.

Packaging
Eggs and dairy products, meat, fish and poultry, cold drinks or carry-out meals. All these products are safely packed with polystyrene packaging materials; by doing so spoilage of foods is prevented. In the western world a combination of good packaging, refrigeration and transportation ensures that only two percent of food is lost through spoilage, compared with 50 percent in developing countries. No matter what products you package, polystyrene has long been recognized as a versatile and cost-effective solution for rigid packaging and food service disposables.
Appliances
From refrigerators and air conditioners, to ovens and microwaves, from hand-held vacuum cleaners to blenders, polystyrene resins meet almost all end-product requirements. Polystyrene resins are safe and cost effective, with excellent appearance and functionality mainly due to easy-processing. Because of this almost 26 percent of the polystyrene demand is used in injection-molding, extrusion and thermoforming applications.
Consumer Electronics
Polystyrene is used for housing for TV's and all kind of emerging trends in IT equipment where the critieria for use are combinations of function, form and aesthetics and a high performance/cost ratio. Polystyrene is the leading choice for media enclosures, cassette tape housing and clear jewel boxes to protect CD's and DVD's.
Construction Polystyrene resins are among the most popular materials for building and construction applications, like Insulation foam, roofing, siding, panels, bath and shower units, lighting, plumbing fixtures. With their excellent price performance balance and good processability and other performance properties, polystyrene resins find use in these building products.
Medical
Bringing new and improved medical technologies to patients and physicians is a complex, regulated process. With excellent clarity and processability and outstanding post-sterilization aesthetics, polystyrene resins are used for a wide range of disposable medical applications, including tissue culture trays, test tubes, petri dishes, diagnostic components, and housing for test kits.
Other
As well as the traditional uses for polystyrene, a variety of consumer goods applications, including toys, electric lawn and garden equipment, kitchen and bath accessories and other durable goods are made from polystyrene. Polystyrene resins have an excellent cost/performance ratio, and in many cases, can be substituted for more costly polymers.
Grades

| | | | |
| --- | --- | --- | --- |
| Grade | Application | MFI Gr/10min (5KG) | MFR 190/5 |
| GPPS1540 | Disposable Cups & Food Containers,Pen bodies | 11 | ------ |
| GPPS1160 | Foamed Sheet for Thermoforming ,Shower cabinets | 2.5 | ------ |
| GPPS1540B | Disposable Cups & Food Containers | 11 | ------ |
| GPPS1460 | Extrusion , Foamed Sheet for Tray | 6 | ------ |
| GPPS1070 | Ultra HMW for special extrusion | 1.7 | ------ |
| GPPS1240 | Ultra HMW for special extrusion,Impact dilution and special injection molding | 2.5 | ------ |
| GPPS1340 | Sheet and profile extrusion,Packaging,Dilution of impact grades for extrusion,Injection molding | 4 | ------ |
| GPPS1810 | Petri dishes,Blood Sample tubes,Disposable beakers,Thin wall moldings | 20 | ------ |
| HIPS7240 | Industrial Parts,Packaging Containers,Egg Boxe | 4.5 | ------ |
| HIPS8350 | Fridge Doors and Cabinet Liners | 4.5 | ------ |
| HIPS7240WB | Industrial Parts,Packaging Containers,Egg Boxes | 4.5 | ------ |
| HIPS3630 | Bathroom Accessories,Coat Hangers,Injection molding | 15 | ------ |
| HIPS4240 | Vending Cups,Extruded Profiles | 3.5 | ------ |
| HIPS6630 | Computer Keyboards,Toys,Spools | 13 | ------ |
| WT1235 | Toys,TV Cabinets,Clocks | 5 | ------ |
Visits: 6037